August Rush
We're full steam ahead coming into the month of August, and if we're being honest...it's just the beginning. We continue to grow our company brand in the US every day, our Team Leader Training Day is rapidly approaching, and we've even begun the planning stages of college recruitment season, which kicks off at the end of the month. Should be an exciting month ahead, but let's get you up to speed on everything that's been going on.

In this month's newsletter, we sat down with Gretchen Geraghty, an online video blogger, who recently came back from one of our treks to Mt. Kilimanjaro. We'll also introduce our #PathTo1Million campaign and our first US Intern.
"What is it like up there on the mountain?"
"Is it as tough as it looks?"
"is it all worth it in the end?"

These are some of the more common questions we get here at Choose a Challenge. Our goal obviously is to make sure you're confident, informed, and ready to go before any trek you take with us. However, It's one thing to tell you about these incredible adventures we send students on, but it's another to actually hear what it's like directly from the student themselves. That's why this past month we caught up with Gretchen Geraghty, a Junior at Boston University, who climbed up with us up to the top of Mount Kilimanjaro back in May. Her trip consisted of 25 students- each having the experience of a lifetime in the process. We talked to Gretchen about different fundraising methods, her mindset at different points along the climb and her overall takeaways from climbing one of the highest peaks in the entire world.
What inspired you to sign up in the first place?
My friend Lexa was telling me about it and she said how we could fundraise for childhood cancer and I thought to myself how important that would be. I also wanted to do this experience for myself, after already being so comfortable in my life. I wanted to push myself to grow and to also say that I did it!
 
What would you say to someone who might be interested in taking on one of our challenges?
Recognize that it's not going to be easy, but at the same time, I feel like it taught me so much. It sounds so cheesy, but it was life changing to be able to tell myself "if I can do this, then I can definitely do more than I ever thought was possible." Overall it was such a cool and interesting experience to share and tell people about.
 
Any advice for a student who wants to go on the Mount Kilimanjaro trip or any of our challenge trips, but might have some doubts?Through most of it, I said "oh yeah, I can do this," and then one week before everything got started I realized "wait a minute, what am I actually getting myself into?" Then I watched a documentary about an 8-year old boy who climbed Mount Kilimanjaro, and I said: "well if he can do it, then I can do it." Even on the fundraising side, there's so much you can do to raise money. My friends were even selling cookies!
 
Did you know about the B+ Foundation before fundraising for them on this trip?
I actually didn't at first, but after some research, I remember how excited I was to start raising money for them and how important their mission was. So I started talking about them in my [YouTube] videos, and it motivated my followers to actually help me fundraise for the foundation. They would always leave me comments saying how they were already familiar with the organization, and some even went to high school with Andrew, whom the charity was created for.
 
If you had to pick the most memorable moment of the trip from beginning to end, what would it be?
Summit night. Once again, It was a lot harder mentally than physically because physically your body CAN handle it, but mentally you might find yourself saying "I can't do it" or "I have a headache," and just really get into your own head.
 
What was one thing you encountered during the entire process that you didn't expect?
I wasn't expecting the guides to be so hands on and helpful! None of us would have made it to the top without their help. They would see us struggling and help carry our bags because they're already so used to that [environment]. I even remember asking one of them, "Are you perfectly fine right now?" and he said, "oh yeah, I don't feel anything." Truly, I wasn't expecting how much they loved being there and how supportive they would be. They would also sing all the time and that was actually the most encouraging thing ever.
 
What's the one thing you would have liked to have told yourself before starting this journey?
I would have told myself you can do it, and it sounds so cliché, but you really can. Even while I was up there on summit night I was telling myself "you're not going to make it," "I can't do it," "I'm tired," but with the help of the guides and their encouraging words it helped me out. I think I just trusted them so much because they've done this so much that they know when someone really needs to turn back. So when they told me I could do it, I know they really believed that.
 
Would you ever fundraise for the B+ Foundation again?
Absolutely! I think that's actually something we're putting together for the fall and we'll try to figure out something for spring. Back when they first came to meet us, I remember them telling us the different ways our fundraising money could be used and I almost started crying. They mentioned one example from a time they helped out a family from South Carolina who didn't have enough money to pay for their daughter's funeral costs after she passed away from cancer. The fact that B+ was able to help them out obviously means so much.
 
What were some of the ways you and your friends fundraised for your trip?
I was lucky enough to have so much help fundraising through my followers, which I realize is not a realistic option for most people. However, one of my friends did such a great job even after he literally told me "I don't have the money to pay for this." It also takes a certain type of person and/or personality to go out there, talk to people and raise money. For example, He literally would go right after class and talk to his professors about what he was trying to accomplish and asked them if they would donate to the cause. He would talk about it with everyone. Some said no, but others would say "hey here's $100 dude," so I feel like just talking about it with everyone and showing how passionate you are helps. He also went a step further and partnered with local restaurants and said "hey can I get 10% of all tonight's dinner revenue if I tell everyone to come eat here tonight?" All those methods seemed to be the most helpful in my opinion.
 
If you had to pick one reason for doing our Mount Kilimanjaro trip, what would it be?
There's definitely a bunch, but at least for me I know I've had family members who were affected by cancer, and I really wanted to fundraise for them. But obviously, I really want to climb this mountain and push myself because I needed something that would challenge me.

Interested in learning more about our trips? visit chooseachallenge.org for more information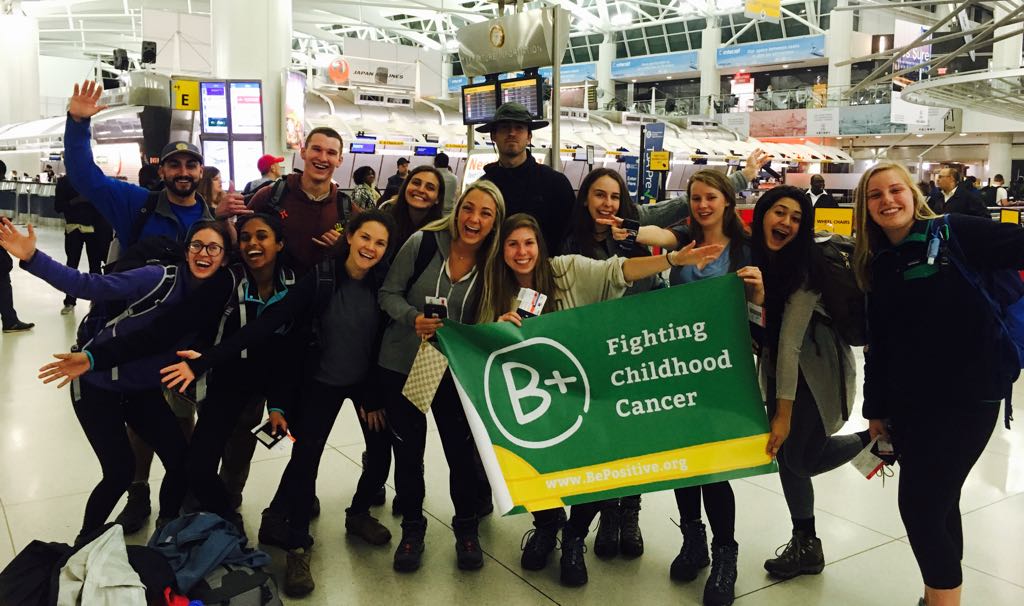 To see photos from Gretchen's trip and other past adventures make sure to check out our UK team's Instagram page!
#PathTo1Million
This month we launch one of our most exciting social media campaigns to date. Choose a Challenge's goal for this year is to raise $1 million for various charities. We'll be documenting our journey via social media and through our monthly newsletter to show you every step along the way. We'll be sharing everything from our experiences on the road visiting different college campuses all over the Northeast and more! Come experience this journey with us by following our Facebook, Instagram and Twitter channels (See below). See you at $1 million! 😎
Team Leader Training Day
Training Day is fast approaching and we're excited to announce that we've put together the list of this year's challenge leaders who will be leading other college students on some pretty incredible treks. We'll have plenty of content in next month's newsletter to share with you and you'll get to meet some the new faces of Choose a Challenge US student leadership!
It's shaping up to be an exciting month for us here at Choose a Challenge and we can't wait to share more with you next month.


Until next time,

Mike and the Choose a Challenge USA team 🇺🇸